On November 22nd "Maestro," Bradley Cooper's new film biography of Leonard Bernstein, will be released in theaters. Because of Cooper's star power, we think it could attract a new, younger audience to classical music. It is wonderful that an actor/producer of Cooper's stature has chosen to create a film about Bernstein.  We are excited.
Although we cannot see the movie until it is released on November 22, we can start listening to great performances of music conducted by Bernstein that are available to you right now on Classical Archives.
Today, we invite you to listen to Bernstein conducting the New York Philharmonic in performances of the music of Igor Stravinsky.
Included on this six-CD set are The Firebird, The Rite of Spring, Pulcinella and much more. To listen, you must be a member of Classical Archives. Membership, which costs only $7.99/month, affords you unlimited listening to tens of thousands of classical tracks. And you can start a free 14-day trial membership if that works best for you.
Be sure to check back here often, because until "Maestro" is released, we will be offering you a steady stream of recordings of music conducted by Leonard Bernstein.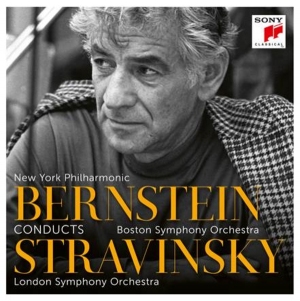 Listen Now to Bernstein Conducting the Music of Igor Stravinsky
CLICK HERE to start listening now.
We hope you will make Classical Archives your home for enhancing your enjoyment of "Maestro."