If you have read the Da Vinci Code, Digital Fortress and Dan Brown's other novels, you know that he is a master of plot twists and gasp-inducing surprises. But do you know that he has been hiding another secret for all these many years?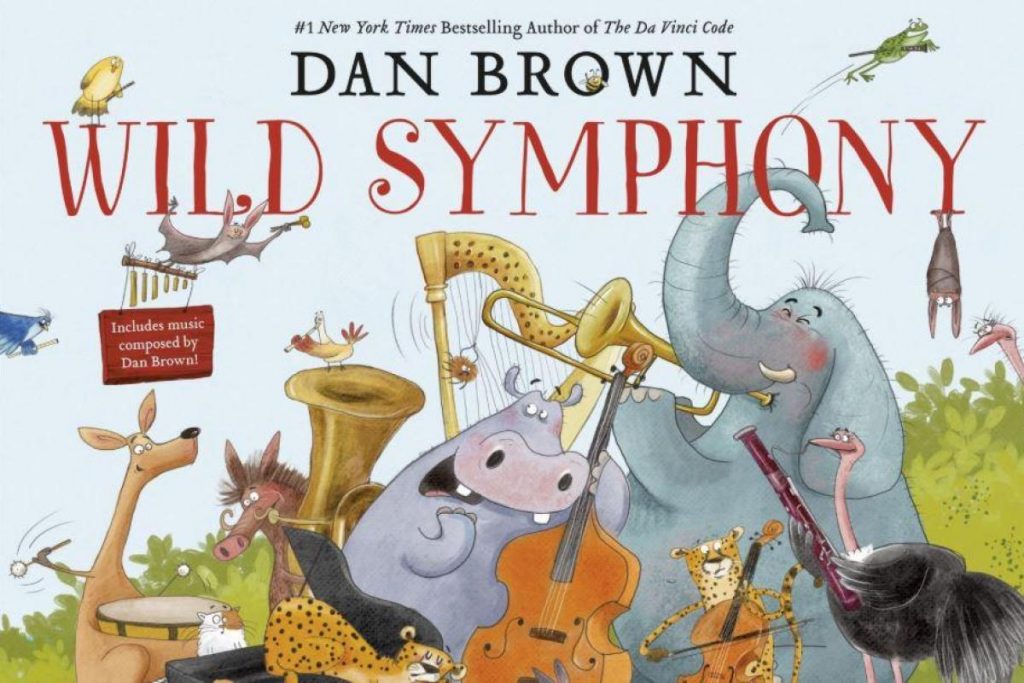 It turns out that Brown is a composer, and a very accomplished one too. As a young man, he wanted to be a composer and songwriter. Somehow, his phenomenal success as an author caused him to set those dreams aside for a time. But now he has taken the wraps off his musical abilities, and has produced an exceptional work, Wild Symphony, which, in our view, will become a classic of both children's literature and music. Prokofiev's Peter and the Wolf and Saint Saëns' Carnival of the Animals come to mind as the historical precursors to what Brown and his team have created in Wild Symphony, to be released in September by Rodale Books in conjunction with PARMA Recordings. But Wild Symphony is something quite new.
The story pairs with an app. In creating it, Brown partnered with a team that includes illustrator Susan Batori (who has illustrated books that include Is It a Tree and Letters from Space) and the Zagreb Festival Orchestra, which recorded the musical tracks. The Rodale publishing group and PARMA were also intimately involved in the creative and technical development, creating a digital book experience that is uniquely interactive. As readers move through the story, they can use the app to play the musical selections that tie to the events in the story.
And it is an adorable story about Maestro Mouse, who recruits other animals to play in his orchestra. Each of these animals – a dancing boar, a ray, a bouncing kangaroo, a brilliant bat and more – has its own musical theme that the app will play. These musical selections, composed by Brown, are incredibly charming, full of life, and well done.
For example, let's meet Dan Brown's Dancing Boar . . .
That's wonderful, right? Can you think of a seven-year-old who won't be enthralled by this music? Can you think of one who won't fall in love with the Dancing Boar? And to further engage children, Maestro Mouse and his animal friends leave puzzles through the story for readers to solve. One of these puzzles is a coded message for readers to solve. (A code? This, after all, is a work by Dan Brown.)
Live Concerts Are Planned Too
Concerts of the orchestral suite from Wild Symphony are planned for more than two dozen countries around the world – including a world premiere in Croatia and events in Germany, Spain, Italy, New Zealand, and Argentina, among others. The American premiere is planned for the historical Music Hall in Portsmouth, New Hampshire, near where Dan Brown makes his home.
Prepare to be charmed. Visit PARMA Recordings online to stay on top of everything that is happening about Wild Symphony.