Let's start today's post by watching Nicolai Gedda in two extraordinary performances. First, as Faust . . .
And second, in a concert performance of Lenski's aria from Tchaikovsky's Eugene Onegin . . .
The world of music lost a treasured artist on January 8 when Nicolai Gedda died. Gedda was one of the most admired tenors of the last century, and with good reason. He possessed elegant, refined musicality; a ravishingly beautiful sound; an astonishing high range; and the ability to sing Russian, French, Italian, German, and even English as though he were a native speaker in each.
Fortunately, Gedda recorded extensively. In the weeks since he passed away, I have been listening to many of his recordings here on Classical Archives. I would recommend them all, including:
Orphée et Euridice by Christoph Willibald von Gluck. Gedda really thrills in this recording of the Paris version of Gluck's masterpiece. Particularly admirable are his confrontation with the spirits who block the entrance to the underworld ("Laissez-vous toucher par mes pleurs," Act 2) and his lyric, beautifully phrased "J'ai perdu mon Euridice," Act 3.
Faust by Charles Gounod. An interesting recording – a live performance at the Teatro Colon, conducted by Gianandrea Gavazzeni. The Mephistopheles is the formidable Nicolai Ghiaurov. This live recording of Gedda's Act 3 "Salut! Demeure" gives a great sense of what a fearless singer Gedda was on stage.
Idomeneo, rè di Creta by Wolfgang Amadeus Mozart. Gedda gives a splendid performance in the title role. You'll enjoy it all, but pay special attention to his elegant and utterly unforced rendition of the long, daunting aria "Fuor del mar" in Act 2.  Being a great Mozart singer was just another of Gedda's remarkable strengths.
Those are only some highlights from Gedda recordings you will discover here on Classical Archives. Others include complete performances of Meyerbeer's les Huguenots, Berlioz's La Damnation de Faust,  Stravinsky's Oedipus Rex, and others. Visit Gedda's artist page on Classical Archives to explore even further.
But Here's My Favorite Gedda Recording . . .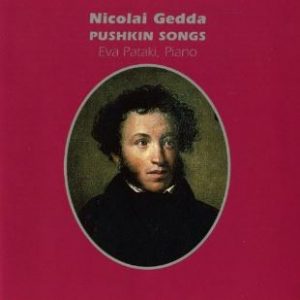 Of all the Gedda recordings I have explored on Classical Archives, I most love an album released by the Bluebell label that presents songs that various composers composed to poems written by Alexander Pushkin. On the CD, Gedda partners with pianist Eva Pataki.
CLICK HERE to listen to them all. You will hear songs written by Glinka, Balakirev, Cui, Mussorgsky, Borodin, Rimsky-Korsakov, Rachmaninov, Prokofiev, Shostakovich and several lesser-known composers.
Why do I like this recording so much? There are many reasons. Of all the Gedda recordings I have heard, this one's close microphone placement – and dare I say, the lack of an orchestra, chorus, or other singers – gives an especially accurate account of how this man really sang.  Gedda performs this repertoire as though it really means something to him. And apparently, it did. Though he was raised in Sweden, his stepfather was Russian, and that was the language spoken in the household.
Gedda was a great Russian tenor. His recorded legacy shows that he was also a great Swedish tenor, a great German tenor, a great French tenor, a great Italian tenor. And a great Verdi tenor, a great Mozart tenor, a great Rossini tenor, a great Bellini and Donizetti tenor, a great operetta tenor, a great lieder singer, a great singer of French art songs, and sometimes even a great Wagner tenor. Just amazing. The list could go on and on.
I know that in the decades to come, we will discover many extraordinary new singers. But will another tenor come along who can match Nicolai Gedda's remarkable extraordinary skills – or his artistry? I would be very, very surprised if a singer like him will come our way again.