Watch tenor Timothy Fallon sing "Pace non trovo," the second of the three Petrarch sonnets set to music by Franz Liszt . . .
I first heard songs composed by Franz Liszt back in my conservatory days, thanks to a superb recording by Dietrich Fischer-Dieskau and Gerald Moore on the DGG label. I still have a copy of that LP on my shelf, but now I am now pleased to be able to listen to another album of Liszt songs, this one performed by a wonderful young tenor named Timothy Fallon and pianist Ammiel Busakevitz.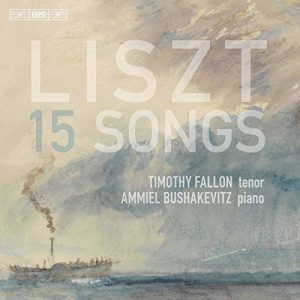 This new release from the BIS label is a recording to listen to and savor repeatedly – and a wonderful way to explore the unique songs by Franz Liszt. As you will hear, some of Lizst's songs are idiomatically Italian (the three settings of songs by Francesco Petrarca, all performed by Fallon on this recording), others seem organically French in style (the very beautiful "Oh! Quand je dors"), almost presaging Fauré. Still other songs ("Jugendglück"), sound almost as though they could have been written by Schubert; but they are forward-looking too, with just a soupçon of Hugo Wolf hovering at the edges. Liszt was an international musician, so perhaps his ability to be at home in different national song styles should not come as a surprise. One surprising thing, perhaps, is that none of the songs sounds anything like music composed by Liszt's son-in-law, Richard Wagner.
Classical Archives Members May CLICK HERE to Listen to the Whole Release
Tracks 1-3 – Tre Sonetti del Petrarca, ("Pace non trovo," "Benedetto sia'l giorno" and "I' vidi in terra angelici")
Track 4 – "Angiolin dal biondo crin"
Track 5 – "Comment disaient-ils"
Track 6 – "Oh! Quand je dors"
Track 7 – "Enfant, si j'étais roi"
Track 8 – "S'il est un charmant gazon"
Track 9 – "Go Not, Happy Day"
Track 10 – "Kling leise, mein Lied"
Track 11- "Jugendglück"
Tracks 12-15 – 3 Lieder aus Schillers William Tell ("Der Fischerknabe," "Der Hirt" and "Der Alpenjäger")
Why Isn't "Die Drei Zigeuner" on this Album?
Some Liszt fans might wonder why his song "Die Drei Zigeuner" ("The Three Gypsies") is not included on this recording. It is, after all, probably his most famous song, with a melody that Liszt also used in his Piano Concerto No. 1.
I, for one, and glad that it has been left out. It is a character sketch at best, and is not as strong as any of the songs that Fallon included on this disk. I would like to commend him for having the courage to omit the song that has, it seems to me, caused many people to misclassify Liszt as a second-rate composer of songs. Liszt was anything but, and Fallon proves it on this much-needed, satisfying recording.