Greetings!
Band, chorus, and orchestra conductors: Welcome to Classical Archives' newest Blog – it is for you!  
And welcome to anyone who suspects there is more to conducting than waving one's arms about – you're sure to find it interesting.
Just as Classical Archives subscribers who are orchestral musicians and conductors did when they were kids, hundreds of thousands of young musicians all around the world sing and play in school bands, orchestras, and choruses.
From these ensemble experiences, many will develop a lifelong source of joy and inspiration that enriches their lives, and their family's. This will be especially true when conductors create memorable music-making by helping young musicians aim higher and achieve more.
That is why the purpose of Classical Archives' newest blog today – "Making Music Lovers: A Toolbox for Band, Chorus, and Orchestra Conductors" is to help conductors create those memorable experiences for their musicians…and themselves.
Instead of reading how important it is for your kids to watch, follow, and mark…here, you will learn exactly how to teach them to do it!
Over some 25 years of working with young musicians, their directors, and doing research on the learning needs of educators, I have learned how challenged many music educators are to get their musicians watching, following, marking, singing and playing with great posture, or to keep everyone engaged when a director is working with just one ensemble section.
You didn't learn in school how to do these things. There just wasn't time in your one or two semesters of conducting to learn more than the basics.  Likewise, the many texts supporting those courses focused exclusively on basics, since transposition, beat patterns, score reading, and other topics must be covered.
But new and early career stage conductors – and even some experienced ones – often need help in applying what they've learned in their coursework. For instance, most conducting books describe how to give a clear downbeat. But describing the downbeat doesn't get it to happen. There are vital other considerations in making a downbeat work, among them, teaching your students: 1) how to watch; 2) what the gestures mean, and 3) why it is in students' personal interest to follow them. Textbooks do not cover other vital issues, including the importance of: 1) students looking at conductors, not their scores; and, 2) conductors delivering gestures with expression and conviction – not merely going through the beat pattern.
Future blogs I write for Classical Archives will feature excerpts from my forthcoming book Ignite Response (to your conducting), a book to help conductors create the response they want. Here is a sample the kind of material you'll find in future blogs; this one is about the downbeat issue.
When our friend strikes his bass drum with good technique and strong intent, he'll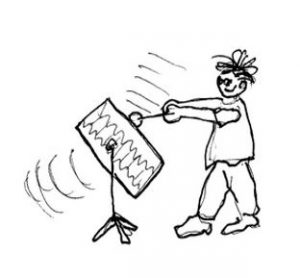 get a ringing "boom" every time. It's physics.
When we conduct, our downbeat can be as clear, well prepared and as strongly intended as his stroke. But unlike his bass drum, our students' response is not a matter of physics.
Maybe they're not watching or they don't like the piece. They might be tired, worried about an exam, or have a family problem.
To get the musical response we want, we need to create students' active involvement by engaging them personally so that their self-talk is "This is important; I want to do my best!"
We can do this by helping them understand the importance of watching and responding in their lives, and by giving them the thrilling, inspiring, life-changing experience of going beyond their comfort zones and realizing that is where life and growth are. When they have these experiences in our ensembles, it is guaranteed that they will bring pencils, mark their music, and sing and play that ff !
…and, once you have taught them how, you will get all this without your having to remind them constantly – only from time to time.
Do visit this blog every month, look for my posts, and be sure to bring the suggestions and approaches you find here into your classrooms. Then let me know how it is working, ask any questions. Let's build on your knowledge, experience, and skills to further ignite musical response in your ensembles.
About David Barg
David Barg is dedicated to helping young ensembles and their conductors aim higher and achieve more. Conductor of the Youth Symphony of Kansas City's Chamber Orchestra, he is a guest clinician with the Education Departments of the New York Philharmonic and Omaha Symphonies, and frequently conducts all-state and all-district orchestras, as well as serving as clinician around the country.  David's research on the learning needs of school ensemble leaders led to his creation of a learner-centered pedagogy – Igniting Response. David has led professional development workshops and residencies based on this approach for music education organizations across the country, and in Australia and Russia. His book for school ensemble leaders – Ignite Response to your Conducting – will be available in early 2017. It is the only book for conductors that contains specific approaches – tested and found effective in many environments – to essential ensemble skills, including: watching and following the conductor, singing and playing all expressive markings in the music, creating and building engagement throughout the rehearsal, marking the music, and many other skills generally not taught in pre-professional education.