Sometime around 1964 when I was in high school, my parents made me take off my baseball glove and put away my bike on a Sunday afternoon. They then made me put on a sport jacket and itchy woolen pants and told me, "We are going to hear Segovia."
Sure enough, the great guitarist Andrés Segovia was giving a concert in the auditorium of Montclair High School in suburban New Jersey. Since Segovia was born in 1893, math tells me that he was about 71 at the time. My mom told me that one of the more remarkable things about him was that he had just fathered a child. But of course, fathering young `uns was not what had made Segovia famous. What made him famous was giving birth to the classical guitar.
I remember what Segovia looked like on the stage – a large, kind of paunchy, scholarly-looking man who wrapped himself around his guitar in a predatory way. I remember that his energy seemed to be tightly focused in the comparatively small area where his hands were working. Those hands, of course, made the sounds that filled the room. But I also recall that the volume of sound didn't bowl anyone over. To appreciate what he was doing, we had to focus nearly as intently as he did.
Thanks to recordings, I have come to appreciate Segovia in ways I could not have anticipated on that day I sat in that auditorium listening to him.
Segovia's Rich Recorded Legacy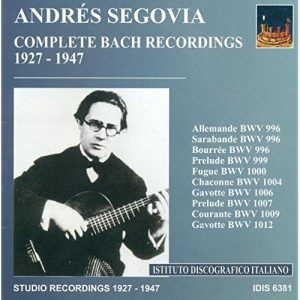 Segovia left behind an exceptionally large number of recordings. Many date from the early years when he was actively establishing the idea that the guitar could be a vehicle for classical music. A good place to start your listening on Classical Archives is a two-CD set from IDIS, Andrés Segovia: Complete Studio Bach Recordings 1927-1947. It contains 14 tracks in all – a selection of works originally written for lute, cello and violin. If you are a Classical Archives subscriber, CLICK HERE to listen.
After enjoying those tracks, you will find a lot more Segovia recordings to enjoy here on Classical Archives: works by Falla, Granados, Handel, Ponce, Domenico Scarlatti, Sor, Villa-Lobos, and many more.