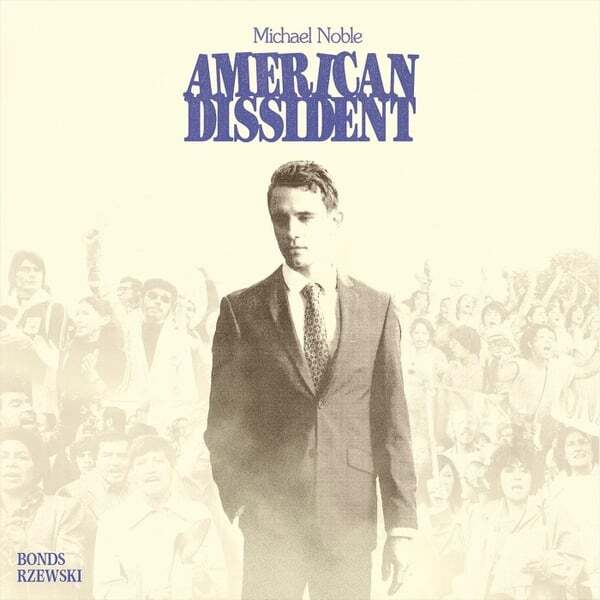 Pianist Michael Noble is a graduate of the Yale School of Music, the Eastman School of Music, and the University of Rochester. He also studied at the Paris Conservatoire and the Royal Ghent Conservatory.
Michael has an intense interest in worthy music that merits wider attention. That could explain why Michael's first album, "American Dissident," features political works of music by Frederic Rzewski and Margaret Bonds. "American Dissident" was released in November 2022 and is now available through HearNow.com for listening on several popular streaming platforms.
"American Dissident" is not yet available for listening on Classical Archives. But we hope that it will be soon.
"American Dissident" emerged from Michael's exploration of the works of composers Margaret Bonds (1913-1973) and Frederic Rzewski (1938-2021). The album's title reflects the lives and political philosophies of both composers, clearly heard in the compositions that Michael selected for "American Dissident." They include "The People Will Never Be Defeated!" by Rzewski and "Winnsboro Cotton Mill Blues" by Bonds. These works, played by Michael on the disc, are more than topical. They are exceptionally good music, satisfying to hear.
To quote from Michael's album notes for "American Dissident" . . .
Margaret Bonds occupies a unique place in American classical music. Born in Chicago in 1913, her mother was a musician and her father, Monroe Alpheus Majors was a doctor who also authored the first-of-its kind anthology Noted Negro Women: Their Triumphs and Activities in 1893. Bonds composed her first piece at the age of eight after she had been taking piano lessons for several years. At the age of 16, she entered Northwestern University, where she was forced to study in the basement due to the hostile and racist environment towards people of color. She obtained her bachelor's and master's degrees in 1933 and 1934, respectively. While still a student, she became the first Black person to perform with the Chicago Symphony Orchestra. During this period, Bonds studied piano and composition with Florence Price, who became one of her greatest influences and mentors. . . "Troubled Water" is Margaret Bonds's best-known instrumental composition. It had previously been the third movement of Bonds' "Spiritual Suite" — a symphonically-conceived set of three piano pieces based on African American spirituals — before it was published as a stand-alone piece in 1967. In its original guise, it was a piece for piano with audience participation called "Group Dance," based on the Negro Spiritual "Wade in the Water" . . .
Frederic Rzewski's "The People United Will Never Be Defeated!" is based on Sergio Ortega's protest song "¡El pueblo unido, jamás será vencido!" with lyrics by the Chilean folk group Quilapayún. It was one of the most famous songs of the New Chilean Song Movement, a revolution that occurred in the popular music of the country during Salvador Allende's Popular Unity Government. After Augusto Pinochet's CIA-backed coup ousted Allende in 1973, the song gained worldwide popularity as a universal protest song against injustice . . .  After Ursula Oppens' premiere recording of the piece in 1978 for Vanguard, it quickly became one of his most famous compositions.
To learn more about "American Dissident," contact Michael Noble at MichaelNoble88@gmail.com