If you think Russian orchestral music tends to be dark and gloomy, the playlist we are offering in today's post will change your mind. CLICK HERE to listen to four Russian selections that are so full of joie de vivre, they will put a wide smile on your face as you start any day.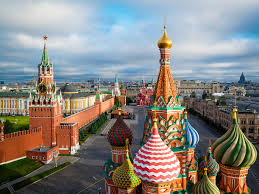 Selection One: The Overture to the opera Ruslan and Lyudmila by Mikhail Glinka
There is a reason why this overture is played so often on early morning classical radio programs. It is so sunny and full of joy.
Our performance features the Kirov Orchestra conducted by Valery Gergiev.
Selection Two: "Procession of the Sardar" from Caucasian Sketches Op. 10 by Mikhail Ippolitov-Ivanov
Be forewarned – to hear this piece is to fall in love with its enchanting exoticism. We are not sure who the Sardar was, but this music tells us he was a very impressive person.
We will hear the Royal Philharmonic Orchestra conducted by Artur Rodzinski.
Selection Three: Carnival Overture by Alexandr Glazunov
Glazunov was not known as a party kind of guy, but this snappy concert overture reveals his lighter side. And what an orchestrator!
Our selection features the Berlin Radio Symphony Orchestra conducted by Sergiu Celibidache.
Selection Four: Festival Coronation March by Pyotr Il'yich Tchaikovsky
We will conclude our listening with this piece of ceremonial music by Tchaikovsky, surely the towering master among Russian composers. What a piece! He composed it in 1883 for the Coronation of Tsar Nicholas III. The pressure must have been on him to compose something stupendous. And did he deliver!
We will hear the Mariinsky Orchestra conducted by Valery Gergiev.