Frederica von Stade, a great mezzo-soprano who has been a beloved artist at the Metropolitan Opera and other major opera houses during a career that has endured through five decades, somehow remains a little under-recognized by many lovers of great singing. How can that be, when she has appeared in roles like Cherubino in Nozze di Figaro, Octavian in Rosenkavalier, and the Composer in Ariadne? Those are hardly invisible roles.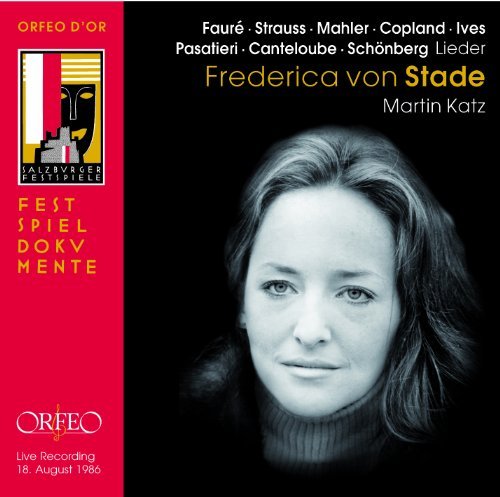 It is difficult to understand. One possible explanation could be that she has applied so much craft and care to each character. People who have seen her perform have been more apt to say, "We saw Cherubino up there, real and true" rather than, "That was Frederica von Stade."
But now, thanks to a live recording of a song recital given at the 1986 Salzburg Festival by Ms. Von Stade and the stellar pianist Martin Katz, it is possible to get "up close and personal" to one of her performances and to appreciate both her artistry and her ravishing voice. The recital features songs by Fauré, Strauss, Copeland, Ives, Canteloube, Poulenc, Schoenberg, and Pasatieri. She and Mr. Katz also perform all four of Mahler's Songs of a Wayfarer with a clarity that is sometimes hard to find in more familiar recordings of the cycle that feature singers with orchestra.
This is great singing. Explore it on Classical Archives.