If someone asked you to select the finest roster of historically great singers to perform the Liebeslieder Waltzes by Brahms, chances are you would consider soprano Edith Mathis, alto Brigitte Fassbaender, tenor Peter Schreier, and bass Walter Berry. And if someone then asked you to pick the best possible pianist to accompany the performance, you would certainly consider Erik Werba, one of the finest accompanist/coaches of the last century.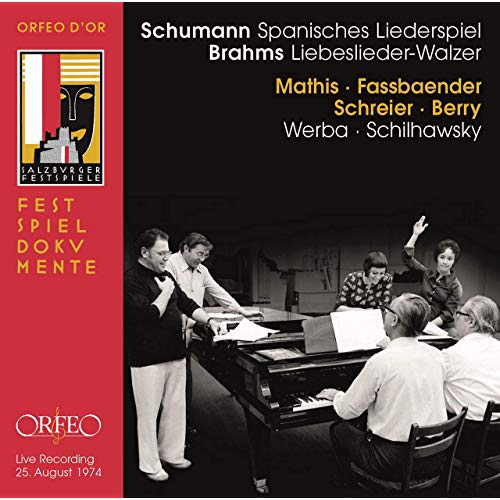 That is the exact roster of performers on a new release from Orfeo that you can hear now on Classical Archives. The performance is live before an audience, a little casual in feel, the sound is excellent, and the recording serves as a historical record of great vocalists from years past.
Plus this new release features an additional work to enjoy, one that is much less frequently performed than the beloved Liebeslieder Walzes. It is the Spanisches Liederspiel by Robert Schumann, a work that is worth knowing better. If you are a lover of Schumann's vocal works, you already know his song cycles Dichterliebe, the Opus 24 and Opus 39 song cycles, and maybe even the Kernerlieder. If you don't know the Spanisches Liederspiel, here is your chance. A Liederspiel, we learned, is a group of songs that were composed to be performed as incidental music to accompany a play. In this case, Schumann composed the works to be performed as incidental music to a play with a Spanish setting.
That same stellar group of singers performs the 10 songs in Schumann's Spanisches Liederspeil. Some texts are set for two singers, some for the full group, and all are satisfying. You will want to take a little time to explore this unfamiliar work, available for listening on Classical Archives.