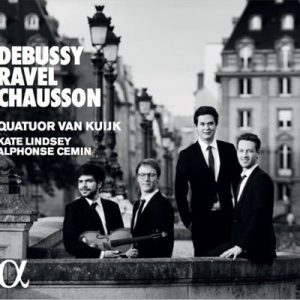 The Emerson Quartet, the Juilliard Quartet, the Brodsky Quartet and other top string quartets have already recorded CDs that pair the quartets of Debussy and Ravel. There is a reason for that. While dramatically different in structure and mood, these two quartets are pinnacles of twentieth-century French music. And of course, they are both masterpieces.
Now another formidable string ensemble, the Quartour Van Kuijk, has joined the fray and released a single-CD recording on the Alpha label that includes both these works. This youthful quartet, which formed in Paris in 2012, won prizes in a number of categories at the 2012 Wigmore Hall Competition and is really making a name for itself. The quartet has also been named among the BBC New Generation Artists.
Judging from their performances of the Debussy and Ravel on this disk (which adds a pianist and soprano for a performance of Chausson's Chanson perpétuelle), there is a reason why people are noticing this youthful ensemble. One unusual thing is that the voice of each instrument seems so clear and distinct – it's almost like listening to four very different people enjoying an intimate conversation.
Have a listen to the recording on Classical Archives and tell us what you think.