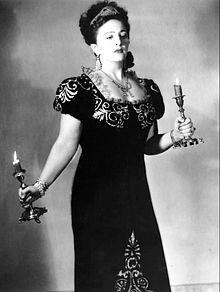 Long before the Russian diva Anna Netrebko became one of the most admired leading sopranos at the Metropolitan Opera, another Slavic soprano, Zinka Milanov, occupied a similar role there.  Milanov (1906-1989) was Croatian, not Russian.  She was not as drop-dead glamorous as Netrebko is – but then, who could be? But when it came to singing leading roles in a wide selection of repertoire – ranging from Aida to Gioconda to Forza to Tosca, this lady delivered. She made her Met debut in Trovatore in 1937, and continued to sing leading roles there for 40 years. If you visit the Met Archive online, you will find that night after night and year after year, she went out there and delivered. It is an astonishing record of performing.
What was so alluring about Milanov? Despite her many recordings, it is a bit difficult to tell. One thing you can tell is that her singing was rock-solid and substantial. Her whole range was even and secure. She could float a high C, sing it mezzo piano, or pin you to your seat with it. Your choice apparently, just ask.
You can assess Milanov's singing on Classical Archives, where you will find her in complete recordings and selections from Aida, Forza, Tosca, as well as that astonishing Verdi Requiem conducted by Arturo Toscanini.
It all makes you think that Anna Netrebko still has a few decades to go before she equals what Milanov accomplished. There's room for plenty of divas in the annals of opera, to be sure. Milanov earned her place at the top.