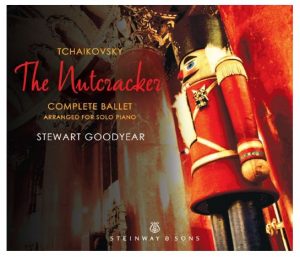 It has been a year since I wrote a post about the Steinway & Sons CD of the complete Tchaikovsky Nutcracker ballet masterfully arranged for piano and played by a phenomenal pianist named Stewart Goodyear.
At the time, I wrote that this CD was the perfect Christmas present. I am writing about it again this year because, again, this CD is still the best possible present for everyone on your holiday gift-buying list.  Are there other holiday CDs out there? Of course. But of them all, this is the best, at least in my opinion.
To apply the term "arrangement" to Goodyear's work is to deny it the credit it deserves. His Nutcracker is a new musical work with voicings and nuances that make it a completely satisfying way to experience the Tchaikovsky score. Just phenomenal.
First, here is a video of the pianist discussing his work . . .
And second, here is a video of Goodyear playing some of its sections in a live concert . . .
Great, Right?
You can click here to listen on Classical Archives or to buy the MP3 album. But here is another suggestion. For your personal listening during the holidays, make sure you are a Classical Archives subscriber so you can enjoy access to tens of thousands of classical recordings.
I think we are all looking forward to a nice big dollop of holiday cheer this year, and here it is, thanks to Stewart Goodyear. We look forward to listening to the uniquely satisfying Goodyear Nutcracker in future Christmases too.