Einojuhani Rautavaara, widely called the finest Finnish composer since Jean Sibelius, passed away on July 17th in Helsinki at the age of 87.
If you're not familiar with his music (and I have to admit that I have only gotten to know it in the weeks since he died), you will be pleased to know that there are many, many examples of it here on Classical Archives.
Rautavaara wrote in many genres and forms – operas, art songs, choral works, keyboard works, chamber works, orchestral tone poems, concertos for a variety of instruments and orchestra, and no fewer than eight symphonies. Ballet music appears to be about the only area that didn't attract him.
Let's start our listening by watching this brief excerpt from Rautavaara's Cantus Articus, an orchestral piece from 1972 that incorporates songs of arctic birds that the composer recorded in northern Finland.
I don't know what you hear when you listen to that piece. I hear a singular, still, northern voice that is not unlike Sibelius's. But if you listen to four or five or 10 hours of his music, as I have, I think you will hear another voice coming in too – something a little warmer and a little more reassuring in its warmth and expansive harmonic rhythms.
Here Is a Playlist of Music for You to Enjoy
If you are a subscriber to Classical Archives, you can CLICK HERE and listen to a sampling of Rautavaara's music that I have compiled for you. Please remember, there are many, many more Rautavaara compositions available here on Classical Archives.
Track One: Overture to the Opera Auringon talo ("The House of the Sun")
Performers: The Oulu Symphony Orchestra conducted by Mikke Franck
Track Two: Die Liebenden ("The Lovers"), cycle of three songs to texts of Rainer Maria Rilke for high voice and orchestra
Performers: Gabriel Suovanen, baritone, with the Helsinki Philharmonic Orchestra conducted by Leif Legerstam
Track Three: Kvällen stundar (Evening Draws Nigh), song for chorus 
Performers: Singer Pur choir
Track Four: Symphony No. 8 ("The Journey")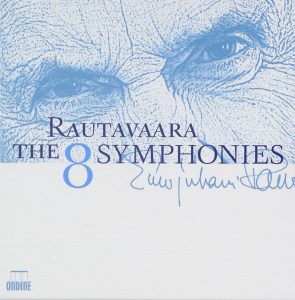 Let's close our listening with a complete symphony – the very tonal, very lovely and completely unique last symphony he wrote. Performers: The Helsinki Philharmonic Orchestra conducted by Leif Segerstam
Have You Subscribed to Classical Archives Yet?
Every month I introduce more and more of my friends to Classical Archives. Every month some of the join and call me up to say, "Why didn't you tell me about Classical Archives sooner? It's all I listen to now."
If you're reading this blog, you are one of my friends too. I invite you to learn more about Classical Archives. I know you won't be disappointed.