We invite you to watch this video of a performance of one of Tchaikovsky's sublime "Cherubic Hymns"
Pyotr Ilich Tchaikovsky has rightfully earned a place on lots of "greatest" lists. He is one of the greatest ballet composers of all time, one of the greatest orchestral composers and, thanks to Eugene Onegin and Queen of Spades, one of the greatest opera composers of the Romantic era too. He was also a prolific composer of very fine songs and piano pieces.
But does Tchaikovsky merit a place on a list of the greatest composers of choral music of all time, alongside the likes of Bach, Handel, Haydn, Brahms, Verdi, Mendelssohn, Berlioz and Britten? Few people would say that he does. And then there is the fact that of the 250 works that he completed during his lifetime, only about 11 have anything to do with chorus.
Which Only Makes It More Surprising . . .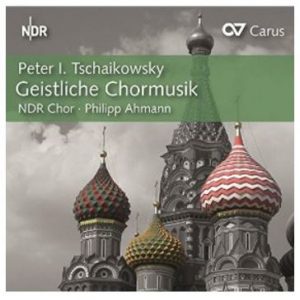 All those considerations make a new Carus recording of Tchaikovsky's choral works all the more surprising and fulfilling. The performance, from the NDR Chor conducted by Philipp Ahmann, is superb in every way and all the works are nothing short of wonderful. I have put all the tracks from this new release into one playlist that our members can enjoy with just one click.
Here is a list of the selections on this new release:
Nine Sacred Pieces (tracks 1-9; please note that the first three of these pieces are the Cherubic Hymns Nos. 1, 2 and 3)
Liturgy of St. John Chrysostom, Opus 41 (tracks 10-13)
An Angel Cried Out (track 14)
Please take a moment to comment and let us know how you liked this recording. Wishing you wonderful listening, as always.