Let's begin by watching this promotional video that the Dallas Symphony Orchestra produced about Jaap van Zweden several years ago.
If you follow how America's symphony orchestras hire conductors, you already know that the New York Philharmonic recently engaged Jaap van Zweden to become its Music Director for the 2018-2019 through the 2021-2022 seasons. What you might not know is just what a phenomenal and unusual conductor and musician he is – or how his arrival could potentially position the Phil for a new period of extraordinary excellence.
I was lucky enough to see Mr. van Zweden lead a rehearsal and a concert
of the Philharmonic this season. The program included Beethoven's Symphony No. 5 and Mozart's Piano Concerto No. 23 with soloist Inon Barnatan. My timing was lucky, because only a few weeks after I did, he was appointed Music Director. I have seen an awful lot of Music Directors lead the Philharmonic over the years. In fact, I have seen the orchestra led by Leonard Bernstein, Zubin Mehta, Kurt Mazur, Loren Maazel, as well as the wonderful current guy, Alan Gilbert. (Why exactly is he leaving anyway?) I also saw Pierre Boulez, another former Music Director, conduct once, but in a concert with the Cleveland Orchestra.
What great things did I see Mr. van Zweden do? For one, he had a very collegial approach to working with the musicians of the Philharmonic. (Maybe he was being nice as pie because he was hoping to get the Music Director gig, but it didn't seem that way.) Just as important, he really knew how to get things done within the confines of a morning-length rehearsal. His basic approach was to play a movement through, then bore into certain sections in depth with the players, focusing closely on phrasing and dynamics. It worked sort of like acupressure – he applied influence in key sections. Then when the orchestra played the movement or larger section again, it was changed throughout, not only in the bars he had concentrated on. At all times, I had the sense that the orchestra was in the hands of a conductor who was a true musician and (let me say it) a musical genius on the order of, say, Pierre Boulez. (Boulez, let me say, was such a miraculous musician that the New York audience didn't like him very much; hopefully New Yorkers have learned enough by now to know a good thing when they have one.)
What Is Unique about Maestro van Zweden?
Lots of things set him apart from just about any other conductor you can name. For one thing, he started his career as a violinist. He moved to New York when he was 18 to study at Juilliard with the legendary violin teacher Dorothy DeLay, teacher of superstars like Nigel Kennedy, Midori and Anne Akiko Myers. When he was 18, he was asked to become concertmaster of the Concertgebouw Orchestra in Amsterdam – the youngest violinist ever to hold that position. He also pursued a career as a violin soloist and, at the urging of Leonard Bernstein and others, he began to conduct. The Dallas Symphony, after inviting him as a guest conductor, appointed him Music Director in the 2008-2009 season. And he has remained there ever since – at least until now.
Those experiences have made Mr. van Zweden a unique conductor indeed – one whose emphasis seems to be centered on phrasing, architecture, dynamics as well as excitement and emotionality. On the podium, he has a unique knack of being involved and demonstrative without any histrionics or affectations at all – he's there to get the job done, and boy does he ever. I also have the sense that New York will welcome and love him. He and his wife are more than music-makers; in 2000, they started The Papageno Foundation, an organization dedicated to helping children with autism.
Let's Listen to Jaap van Zweden
I've selected some tracks from the Classical Archives library that reveal a good deal about the way this Maestro makes music.
The Maestro as violin virtuoso . . .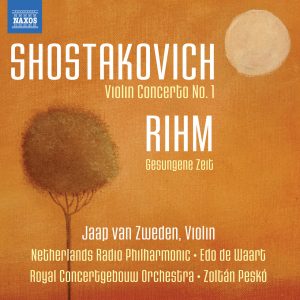 First, let's listen to the Maestro as violin soloist in the formidable Shostakovich Violin Concerto No. 1, with the Netherlands Radio Philharmonic Orchestra conducted by Edo de Waart. It's a profound piece of music that the composer worked on and kept hidden from the Soviet authorities for many years. Listen to how Maestro van Zweden brings out the internal architecture and structural dynamics in every movement. You will hear that same approach at work in the orchestral music he conducts.
The Maestro as an architect of sound . . .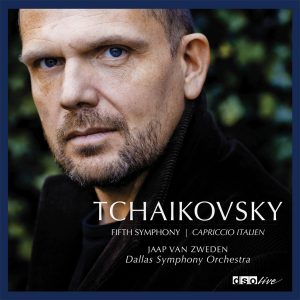 Next, let's listen to him conduct Tchaikovsky's Symphony No. 4 with the Dallas Symphony. Under his direction, this work is no longer the "orchestral showpiece" that is has become. Check those clear dynamic divisions, nearly like what you hear in a good performance of a Bach orchestral suite or other Baroque work. This really is something new.
About the New Classical Archives Blog
We are delighted to welcome Barry Lenson, formerly the writer of the Classical Commentary Blog, as our new blog author. Barry earned degrees in voice and opera from the McGill University Faculty of Music and the Yale School of Music and was an active performer until writing happened for him. He has now written more than a dozen books as well as hundreds of articles and blog posts on a wide range of subjects.