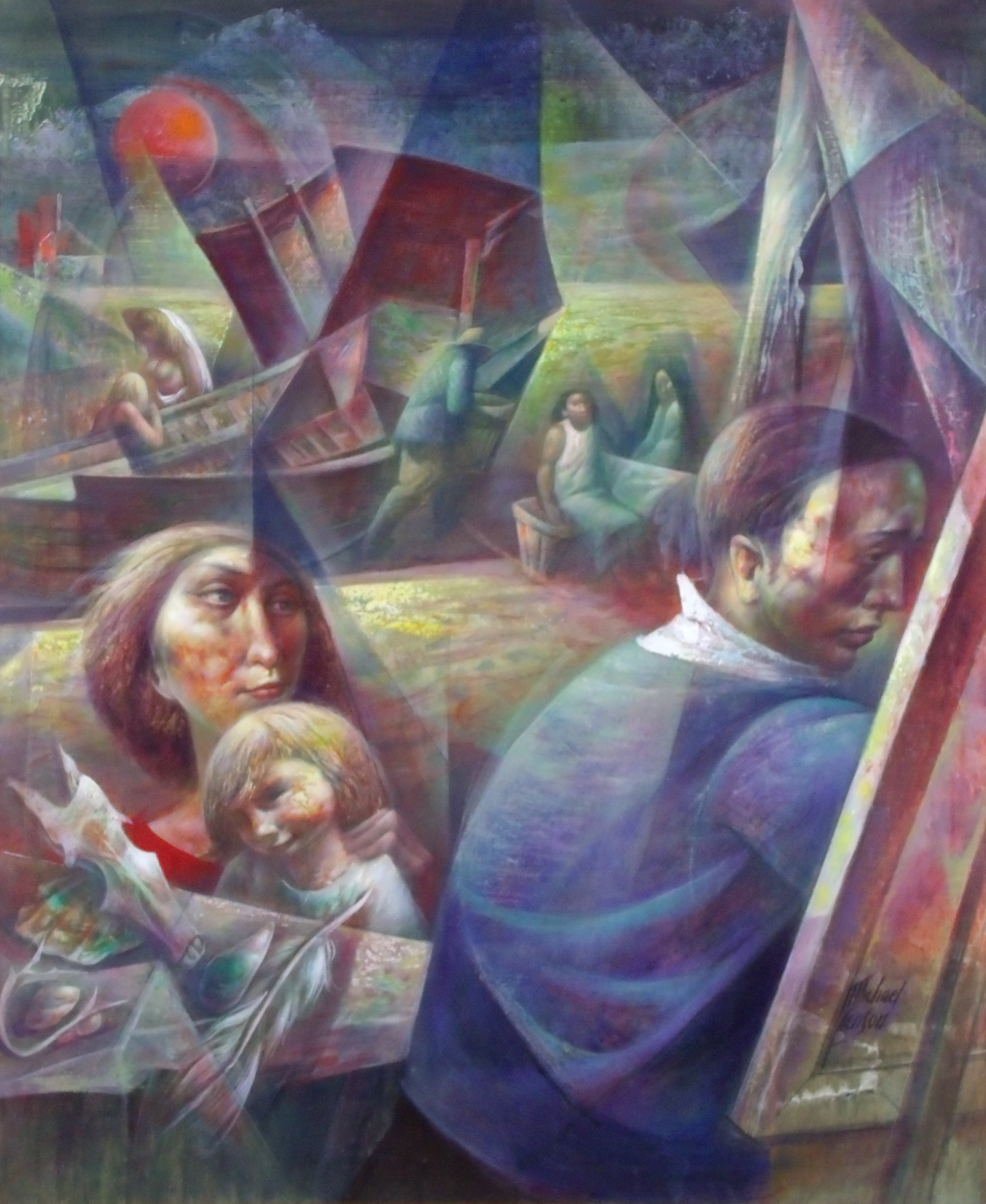 "Afternoon at Cape Cod" by my father Michael
Lenson (1903-1971)
Note the influence – not dominance- of
cubism and abstraction
I love artists who are a little behind the times. Perhaps that is because my father Michael Lenson was one of them. He was a fine realist painter who simply refused to paint purely abstract paintings, even during the 1950s when most of his fellow realists were doing just that so they could get their works into juried exhibitions and galleries. Not my dad. He wasn't about to toss aside his hard-won ability to paint the human figure.
He went into his studio every day and continued to paint one skillful realistic work after another. There were years when I was a kid when he only sold one or two paintings. We were a pretty poor family. We ate a lot of macaroni and cheese for dinner. My dad drove an ancient car. But my mom, my brother, and I were all proud of him for "sticking to his guns" and never giving up his artistic vision.
And you know what? Today, more than 40 years after his death, my dad has become a highly respected American realist painter whose works are in the collections of many important American museums. You see, that is what happens as the years roll by. Finally an artist's work is considered in a broader historical context and if it is good, people see that and forget the fads and fashions of the times when it was created.
Johann Sebastian Bach, Music's Great Anachronism
Johann Sebastian Bach probably ranks as the greatest and most-recognized anachronism in the history of music. As you know, he lived from 1685 until 1750. The music he was composing was behind the times when he wrote it, as you can tell when you listen to, say, the music of Heinrich Schütz, who lived from 1585 until 1672. Bach wrote the Saint Matthew Passion in 1727, more than 50 years after Schütz died and stylistically, it is not all that far afield from the music of Schütz. Gluck, Stamitz and Leopold Mozart were actually composing much more "modern" works than Bach's during the years when he was alive. And then there's the fact that Wolfgang Amadeus Mozart was born in 1756, only six years after Bach's death. Beethoven? He was born in 1770, only 20 years after Bach exited stage left. (You can look it up.)
So you see, Bach was way behind the times. But nobody is going to say today, "We should stop listening to Bach because he was not a modernist."
I have recently been listening to a number of compositions by the Russian composer Nikolai Medtner, another musical anachronism. He was actually born later than both Rachmaninoff (born in 1873) and Scriabin (1872). Like those composers, Medtner was most interested in composing for the piano.
Medtner wrote three piano concertos, chamber music for piano in combination with various instruments, songs for voice and piano, and 14 piano sonatas and many other pieces for solo piano.
Some of Medtner's early works sound a lot like Rachmaninoff. But over time, a growing number of his works began to sound like throwbacks to the late 19th century. He also had a very interesting, and apparently unhappy, life. He finally ended up living in England, cut off from Russia in the years following the revolution. In his later years, one of his principal patrons was an Indian Maharajah who apparently believed in Medtner when few other people did. It seems that there were extended periods of his life when his music was hardly being performed at all.
But the quality of Medtner's music, in the end, makes him interesting and worth hearing.
Here's a recording of some of his "Forgotten Melodies." Sorry, no video here, just a recording . . .
And here's a video of a performance of Medtner's C-Major Piano Quintet. I think you will agree that it is a very interesting piece indeed, melding the styles of the "modern" Rachmaninoff with sections that are reminiscent of purer 19th century romanticism . . .
,