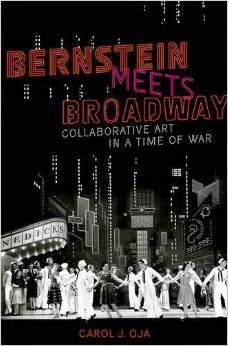 A few months ago my wife and I went to hear a lecture given by Prof. Carol J. Oja about her upcoming book, Bernstein Meets Broadway: Collaborative Art in a Time of War. Because the lecture was sponsored by the New York Philharmonic, I expected one more evening of adoration directed at Leonard Bernstein by his still-faithful New York Public.
I was unprepared for what I heard from Prof. Oja, who is William Powell Mason Professor at Harvard University. In her quiet and straightforward presentation, she laid out the astonishing story of Bernstein's fearless support of African-American and even a Japanese-American performing artist way back in the 1940s – a decade before what most of us view as the civil rights movement.
I'm Moving My Chair
I have to say that based on Prof. Oja's research, I have now moved my chair and am sitting in the Bernstein-Loving section of Avery Fisher Hall.
Here are a few highlights of her talk. You can explore them, and I assume many more, when her new book is released this August 15th by Oxford University Press.
As early as 1944, Bernstein and his collaborators presented the Broadway musical On the Town and the ballet Fancy Free. Both of these works featured interracial casts. In Fancy Free, black and white performers danced with each other, held hands, and seemed to be romantically interested in one another. It is worth noting that those works predated the integration of Major League baseball by three years. It is also remarkable that in On the Town, the part of Ivy Smith (the romantic interest of one of the sailors who is on leave) was played by Sono Osato, a Japanese-American dancer and actress.
Those courageous works drew the attention – and the wrath – of J. Edgar Hoover, who tried to scare Bernstein and his collaborators Jerome Robbins, Betty Comden, and Adolph Green, into silence. Although they were not cowed, the McCarthy era of red-baiting followed soon afterwards, stalling the progress toward racial equality in America by 10 years or more.
In 1956,Bernstein conducted a concert at New York's Lewisohn Stadium that featured Louis Armstrong as soloist in W.C. Handy's "St. Louis Blues." Handy himself was in the audience. In her talk at the Philharmonic, Prof. Oja played this video of the concert, which documents a true milestone in the history of American popular and classical music. Be sure to watch this video until the end, where you will witness the interaction of Bernstein and Armstrong, two giants from different spheres of musical endeavor.
In 1957,Bernstein's West Side Story was more than just a blockbuster musical. On many levels, it was a plea for racial tolerance too.
In the years that followed, Bernstein provided performing opportunities for African-American artists who included the soprano Reri Grist and the conductor James DePriest, whom Bernstein appointed assistant conductor of the New York Philharmonic.
To delve deeper, you can watch this earlier video, dating from 2011, in which Prof. Oja discusses her research for her upcoming book.
I know I will, and I hope you will too, when it becomes available on August 15, 2014. It enlarges the story of American music in ways that are nothing short of revolutionary.