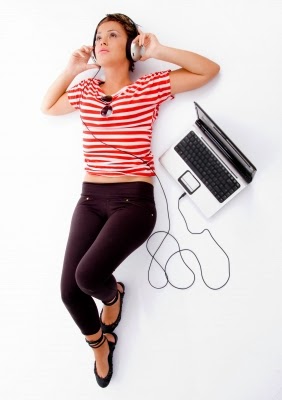 Let me start today's post with a quick disclaimer about my relationship with Classical Archives. I have subscribed to Classical Archives for about three years. I really like Classical Archives. I have written about it before on this blog. Also, I have been writing articles for the Classical Archives eNewsletter for several months now – it's an unpaid assignment that I took on because (you guessed it) I really like Classical Archives. But despite all that, I am committed today to writing an objective comparison of different ways to listen to classical music on your computer, tablet, or smartphone.
Ready? Here we go.
A few months ago I got an email that encouraged me to try Spotify, an online service that streams music to computers, phones, and tablets. I signed up for the service's free service, mostly because I couldn't find the price for the paid service anywhere. (I was welcome, however, to enter my credit card information so I could be automatically upgraded to Spotify Premium after one month; the enrolment page did not tell me how much my card would be charged, so I figured I would turn that down.)
When I enrolled for the free service, I discovered that before I could listen to music I would have to "Download Spotify." What the heck, I figured. So I clicked and downloaded it on my laptop. It turned out to be a program that launched every time I started my computer, accompanied by an intrusive toolbar. It seemed to assume that every time I turned on my computer I wanted to listen to music. I deleted the whole shebang after a day.
What about the music, you ask? There is classical music available for streaming, but mostly single movements of larger works. Just one movement of Ravel's String Quartet was available, for example, and then Spotify jumped to Bolero. I now get only Spotify's newsletters, which offer me a chance to listen to mostly pop tracks.
Bottom line: If you are looking for an online classical music source, look elsewhere.
I've been a subscriber to Pandora's free online streaming service for a few years. I don't use it often. After I signed up, I got to create customized "channels" of music genres that I like, by typing in the name of a performer or composer. Pandora then starts to play music that its engine determines belongs in that category. I can also fine-tune the selections by giving one that I like a thumbs up or a thumbs down. That is supposed to help the program do a better job of selecting music that I like.
But Pandora doesn't seem to have been created by people who understand classical music . When I went to the site just now and created a new channel for "Ravel," it immediately started playing piano music by Eric Satie, and then Poulenc. Neither of those guys was Ravel, I had to notice. Pandora then informed me that Scriabin and Mendelssohn are composers who are "similar" to Satie. In whose universe?
Bottom line: Pandora can produce a stream of background music for your next cocktail party, maybe. But it's not for serious lovers of classical music.
Amazon Prime Music is a newly organized online library of more than one million tracks of all kinds –not just classical music. It is "free" if you belong to Amazon Prime (which I do), which costs $99 a year. Once you sign up, you can select an entire classical CD and listen to all of it, which is good. After you listen, it is stored in your music library on the cloud, so you can access it from your phone or tablet. That's neat if you like to listen to music that way.
The selection of classical works seems limited, perhaps because the service is new. I personally find it hard to navigate the interface well enough to find out exactly what is there. The "front end" menu categorizes classical music into some pretty sophomoric categories like "Relaxing Classical Music," "Sunny Day Classical Music," "Big Powerful & Grand," "Classical Music for Reading Historical Fiction" (???), and "Cooking with Classical" (ouch!). In case you were wondering, Wagner's "Ride of the Valkyries" is good to listen to when you are cooking.
Bottom line: Amazon Prime Music will probably improve with time. You can listen to complete albums, but the interface is too low-brow for people who know much about classical music or what they like to listen to.
Okay before you tell me, I realize that iTunes isn't exactly a streaming audio music service. But I thought I would include it anyway in the listing I am writing today. iTunes, as you probably know, is a service that lets computer-users listen to music in several ways. First, they can to go iTunes radio and listen to streaming feeds from various radio stations. Second, they can purchase albums from an immense online selection (some of them classical), store them their computers, and listen to them there. Third, they can copy tracks from CDs into their computers' iTunes library and listen to them there.
It is free to enroll and download the iTumes program, which includes a player. iTunes is essentially a store, so you pay for any albums that you download. There is no charge for listening to iTunes radio or for using iTunes to import and store your CDs on your computer.
Bottom line: iTunes Radio offers a good way to listen to a number of classical radio stations. iTunes also functions as a jukebox where you can store your classical music on your computer. But if you want to explore thousands of musical selections, you are going to have to buy each one you want to listen to.
Twenty years ago, Pierre R. Schwob started Classical Archives as a hobby. Today, it's the largest classical music website in existence, offering 821,500 individual tracks from more than 400 record labels. There are 63,000 artists represented, performing the works of 16,400 composers. Classical Archives has set other records too. At age 20, it is one of the oldest websites in existence.
Membership costs $7.99/month, or $79.90 annually. For that fee, members are entitled to unlimited streaming of anything in the Classical Archives library. There are several ways. On computers, selections are played through the Classical Archives proprietary player, which works remarkably well – you click on a selection that you would like to hear, and it begins to play. In addition, Classical Archives now has very robust apps for both iPhones and Androids. (I use the iPhone iteration a lot, and it works perfectly.) If you like, you can also purchase MP3s of Classical Archives selections for $0.99 apiece.
But the best thing about Classical Archives is that its listings have been created and organized by people who understand classical music. You can search by composer, by performer, by genre, by composition title, and more. The selection is deep – if you want to listen to the same piece being played by five or six performers, chances are you will find that many. There are other excellent features too, such as a selection of new releases that is updated weekly. You can also access lists of works that are grouped by genre and period, and browse through the service's "Must Know/Must Have" listings of works that every lover of classical music should know.
Bottom line: Classical Archives will never tell you that Scriabin is "similar" to Ravel. It will never offer you only one movement of a symphony or concerto, then leave you hanging. It will never insult you by offering you a list of classical works that are great to listen to while you are cooking or strolling on the beach. Classical Archives is the serious way to listen to classical music online and the best that there is – hand's down!