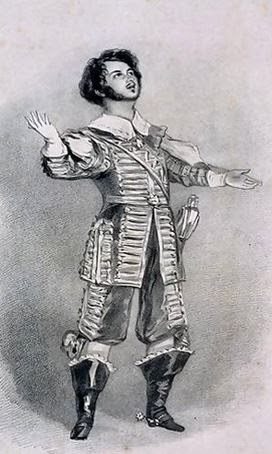 I took a lot of liberties with music history when I was writing my new novel
Distant Voices.
All of the characters are fictional, but I created many of them by combining information about the lives of musical figures who actually lived.
Just for fun, I have created a musical trivia quiz for you to enjoy today. You need not have read Distant Voices to enjoy it. So here we go . . .
1) In the opening scene in Père Lachaise Cemetery in Paris, one of the grave robbers turns and talks to a statue that is mounted on a crypt. In what opera does something similar happen?
a. Benvenuto Cellini
b. Norma
c. Don Giovanni
d. Faust
2) Niccolo Carini, a character in Distant Voices, is a phenomenal Italian opera tenor with an exceptional high range who lived and sang in in Paris in the 1840s. Which of the following historical singers who actually lived served as the inspiration for Carini?
a. Giovanni Battista Rubini
b. Fernando de Lucia
c. Jean de Reszke
d. Manuel Garcia
3) Lodovico Sperioso, a fictional opera composer in Distant Voices, used musical shorthand that allowed him to outline pages of music quickly before passing them to copyists. What historical opera composer used a similar system?
a. Giuseppe Verdi
b. Richard Wagner
c. Manuel de Falla
4) Larry Schiavo, another character, receives a Teflon injection to repair a vocal cord that has atrophied. Has any actual singer ever undergone such a procedure and if so, who?
a. Enrico Caruso
b. George London
c. Jessye Norman
d. George Shirley
5) Professor Luciano della Pergola, a kindly professor who is a character in Distant Voices, is based on which of the following musical figures who actually lived?
a. Placido Domingo
b. James Levine
c. Luciano della Pergola
d. Riccardo Muti
6) Lodovico Sperioso, a composer who is a character in Distant Voices, left Italy, taught in New York, and was buried in a cemetery in Queens, a borough of the City of New York. The same can be said for another Italian who played a major role in the history of classical music. Which of the following is that person?
a. Alberto Ghislanzoni
b. Felice Romani
c. Lorenzo da Ponte
d. Alessandro Stradella
Answers
You didn't think I would leave you hanging about the answers, did you? So here they are.
1) c
2) a (that's his picture at the top of today's post)
3) d
4) b
5) c
6) c